Every month we will feature milestones in LTSC's 35-year history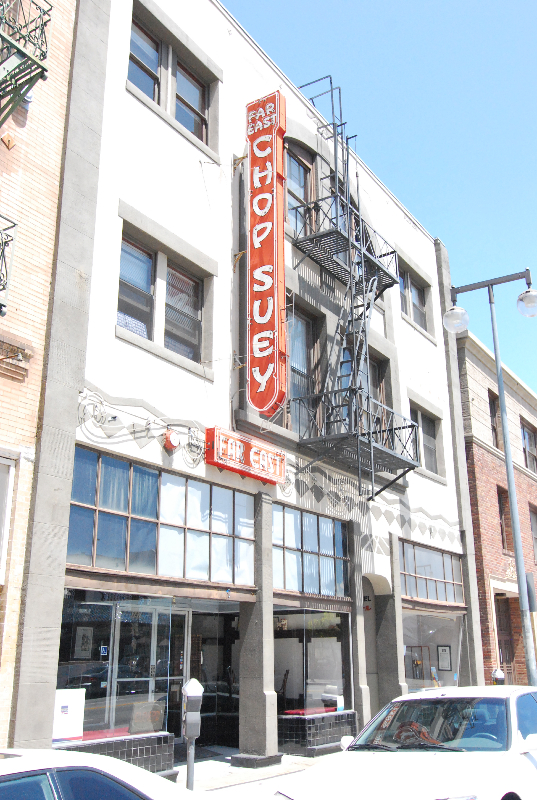 A Piece of Little Tokyo's
History ...
The Far East Building with its famous Far East Café was a witness to the birth, growth and development of what was, during the 1920s and 30s, the largest Japanese American community in the mainland U.S. After suffering severe damage during the 1994 Northridge earthquake, the building's future was uncertain, possibly taking with it all of its history.
... Preserved for Today's Community
In 2004 LTSC was able to save the building and keep this part of Little Tokyo's history alive. Today, after a $4 million renovation, it houses affordable housing for low income and formerly homeless/mentally ill residents, a restaurant/bar, and, since 2013, the Far East Lounge.
Photo: Jewelry making class at the
Far East Lounge
35th Anniversary Dinner Celebration
Wednesday, November 4, 2015
JW Marriott L.A. Live - 900 W. Olympic Blvd. Los Angeles
6:00 pm - VIP Reception / Silent Auction
7:00 pm - Dinner

Little Tokyo Service Center invites you to join us as we celebrate 35 years of service and dedication to the Los Angeles community. The proceeds from this event will support LTSC's work improving the lives of seniors, children and low-income families and revitalizing Little Tokyo. Sponsorships opportunities are still available and individual tickets are now on sale.
Asian Small Business Expo
Come to the 16th Annual Asian Small Business Expo, "Ingredients for Success", hosted by the Asian Pacific Islander Small Business Program.

Saturday, September 19, 2015
9:00 am – 1:00 pm
Almansor Court Conference Center
700 S. Almansor St. Alhambra, CA 91801

FREE admission, FREE parking, FREE workshops, meet exhibitors, and network with entrepreneurs, service providers, financial organizations, franchises and governmental and legislative representatives.

Free Workshops:
Funding Opportunities with US Bank, Wells Fargo, Cathay Bank, California Bank & Trust and City National Bank
How to Make a Splash in the L.A. Food Scene with Alexander Siu, Marketing Director of 626 Night Market; Kristie Hang, Reporter, Journalist & Food Blogger; Mayly Tao of DK Donuts (one of L.A.'s most Instagrammed eateries)
Selling Beyond Our Borders with reps from Port of L.A. & U.S. Dept. of Commerce
Paths to Success with Lan Ong, Managing Director, WHF & Bird Pick Tea & Herb; Jennifer Li, President & CEO, Novotech Nutraceuticals; Annie Choi, Owner, Found Coffee
Networking Event: The Power of Networking featuring Robert Egger, President & CEO, L.A. Kitchen
Pre-Register online or Email for more info
Support LTSC's Youth by Shopping at Ralphs
Please register or re-register today for Ralphs Community Giving Program (you must re-register every year) and portion of your total purchases will benefit LTSC's after-school program.


If you HAVE NOT registered your Rewards Card online:
Go to www.ralphs.com
Click on No Account? Register
Follow the easy steps to create an online account
Check your email for confirmation and click on the link you receive
Return to www.ralphs.com, sign in to your account, and click on your name (top right)
View your account information and edit as necessary
Link your account to LTSC:

Click on Community Rewards - Enroll
Type LTSC's NPO number (83078) or name (Little Tokyo Srv Ctr Comm Dev. Corp)
Click on the circle to the left of your organization's name
Click on ENROLL to finish your enrollment process
If you have already ALREADY REGISTERED your Ralphs card online:
Go to www.ralphs.com
Click on Sign In
Enter your email address and password
Click on your name (top right)
View your account information and edit as necessary
Link your account to LTSC:

Click on Community Rewards - Enroll
Type LTSC's NPO number (83078) or name (Little Tokyo Srv Ctr Comm Dev. Corp)
Click on the circle to the left of your organization's name
Click on ENROLL to finish your enrollment process
If you have any questions, please call Julie at LTSC (213-473-3027).
Blue Shield of California Foundation
LTSC received a grant from Blue Shield of California Foundation for Kosumosu, our transitional housing for survivors of domestic violence and their children. This grant will allow LTSC to strengthen its capacity to serve these families.

LTSC would like to thank Blue Shield of California Foundation for this grant of unrestricted core operating funds, which offer the flexibility to respond to changes and challenges as they arise, so that LTSC can continue to reach many of the most vulnerable families.

Blue Shield of California Foundation is one of the state's most trusted grantmaking organizations, as well as the largest private funder of domestic violence services organizations in California. Its mission is to improve access to high-quality health care for the underserved, and help end domestic violence.

To learn more, visit www.blueshieldcafoundation.org.
A3M's Starnight 2015
On September 26, 2015 a 19-year-old Filipino patient will meet his lifesaving bone marrow donor for the first time. Witness this momentous occasion at A3M's Starnight 2015 Annual Gala Dinner. It will be a heartwarming experience that you will remember for a lifetime.

Starnight will also feature Erica Welsh-Westfall, who, in spite of losing her baby daughter Sofia Flores, continues to help other patients in need of a bone marrow transplant. More than 70% of patients in need of a donor must look for a match outside of their family. A3M adds new donors to the national registry to diversify the database and increase the chances of patients finding a match. Sofia's legacy survives in Erica's continued efforts and patient advocacy. Erica will receive this year's Human Spirit Award in recognition of her commitment to saving lives.

Buy your tickets for this wonderful dinner where you can meet other A3M supporters, community leaders, transplant physicians, surviving patients and dedicated volunteers.

Saturday, September 26, 2015
5:00 pm Reception / Silent Auction
6:00 pm Dinner / Program
The LA Hotel in Downtown Los Angeles
333 S. Figueroa St. Los Angeles 90071
Real World Retirement Planning
Saturday, September 12, 2015 at 2:00 pm
Gardena Valley Japanese Cultural Institute
1964 W 162nd St, Gardena, CA 90247

Planning for the future can be daunting and we all have concerns about whether our finances will last us through retirement. This workshop will explore the universal reality of retirement as well as the many savings and investment options individuals can rely on when planning for the future. It will also offer information relevant to each stage in a working adult's professional life, from the twenty-something's to the final years before retirement. Presentation in English with simultaneous interpretation in Japanese.

BoLA Fundraising Reaches 80%

Fundraising for Budokan of Los Angeles has reached 80% of $23.5M goal. Groundbreaking for the multipurpose sports and activities center in Little Tokyo is set for late 2016.

Wish List

The Far East Lounge (FEL) is looking for standing mirror

s to use during Yoga, Tai Chi, and sewing classes.

August Donors

Thank you for your support!




Anonymous

Dennis Arguelles

Consulate General of Japan

Shuk-Li Ebihara

Misako & Hiroshi Fujisaki

Jennie & Arthur Hasegawa

Dean Hiraga

Takahiro Ide

Sachi Imori

Etsuko & Noboru Kato

Mark Kawauchi
Dawn & Alan Kita

Russell Kitagawa

June & Gary Masada

Teresa & Robert Matsushima

Natalie Nakatani

Shirley & Steven Ogata

Shirley Oka

Dean Okamura

Yosuke Ouchi

Mable & Frank Takenaka

George Tanaka

Stacy Tanaka

Loan Thi Tran

Keith Umemoto

Emily & Dan Weaver

Nora & Norman Yamauchi

Gerald Yee

Paul Yokoyama

In Memory of Nancy Kikuchi

Etsuko Ichinose

In Memory of Jack K. Ninomiya

Sharon Sugiyama & Kathy Ninomiya

In-kind Donations

Melody Cheung

Baby2Baby

L.A. SHARES




Support LTSC

Learn more about making a cash contribution, increasing your impact with matching gifts, donating your old car, and other opportunities to support LTSC.