Budokan Announcement, APISBP Expo,
FandangObon
& More!
Little Tokyo Service Center News - November 2014
Helping People, Building Community
Prop A Funding Awarded to Budokan of LA
On October 7, 2014, the Los Angeles County Board of Supervisors approved a $1 million grant award proposed by Supervisor Gloria Molina for the Budokan of Los Angeles (BoLA) project. The funding will be utilized for capital purposes for LTSC's multi-purpose recreation facility with a roof-top park in Little Tokyo. The Budokan will be located at 237-249 Los Angeles Street, between 2nd and 3rd Street, near the Little Tokyo Branch Library and Doubletree Hotel. The Budokan will consist of a gymnasium, community space and a roof top park and will feature an array of sports (basketball, volleyball and martial arts), after-school programs, special events, tournaments, and programming for all ages.
"I am extremely excited and pleased to make this award for the Budokan project. This money will be used to construct a major sports and activities center here in Downtown Los Angeles and will fulfill many needs by bringing a much needed recreational facility with green-space to the area as was intended by Proposition A. Overall, it will serve a very broad and diverse audience and have many long-term benefits for local residents," stated County Supervisor Gloria Molina of Supervisorial District 1.
Proposition A was enacted by the people of the County of Los Angeles on November 3, 1992 and November 5, 1996 for safe neighborhood parks, gang prevention, tree planting, senior and youth recreation, and beach and wildlife protection, among other uses, and provides funding to public agencies and non-profits within the County for acquisition and/or development of facilities and open space for public recreation.
"I would like to thank the County of Los Angeles for their partnership with LTSC on the Budokan project and for their recognition on the importance of expanding recreational opportunities in the Downtown area for a broad range of potential users, especially for many within the area who don't have access to affordable recreational opportunities," said Dean Matsubayashi, Executive Director of LTSC. "The Budokan project will fulfill many of these unmet needs, plus provide a boost to the local economy and serve as a cultural icon for Little Tokyo."
The Budokan of Los Angeles has now secured over 50% of its $23 million capital campaign campaign goal and is in the final stages of completing the entitlement process. LTSC anticipates the capital campaign to run for 12-18 months, with an estimated groundbreaking in 2016 and an estimated construction timeframe of 18 months.
API SBP 15th Annual
Asian Small Business Expo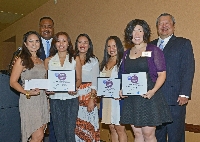 API SBP held a very successful 15th Annual Asian Small Business Expo in Alhambra on Saturday, September 20. Four outstanding workshops, including a marketing seminar featuring Bill Imada from IW Group and Aileen Xu and Alexander Siu from 626 Night Market, helped draw the biggest crowd in years! Thanks to API SBP staff, volunteers, Title Sponsor US Bank and all of the event sponsors and exhibitors for making the Expo a success!
The Expo also saluted the top three awardees of the API SBP/Citi Business Plan Competition. 1st Place winners were Christine Sumiller, Patricia Perez and Roselma Samala of Red Capiz Partners. Red Capiz Partners plans to open a boutique bar in Historic Filipinotown. As quoted by the Asian Journal, Ms. Perez said, "We wanted to capitalize and re-invent the speakeasy trend and vintage-inspired cocktails, as well as promote our cultural heritage as Filipinos by infusing these cultural elements into the food, drinks, services and ambiance."
Congratulations to Red Capiz Partners, Annie Choi of Found Coffee (2nd Place) and Irene Soriano of DTLA Small Dogs Club (3rd Place) for your great efforts toward making your dreams a reality!
Fandango Obon Mottainai Eco Fest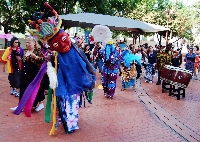 More than 400 people gathered in the JACCC plaza on Sunday, October 26 for the Fandango Obon "Mottainai Eco Fest."
The second year of this gathering drew a multi-ethnic, multi-generational crowd dancing in a large circle moving around performers that included Grammy-winning band Quetzal, featuring the powerful voice of Martha Gonzalez, weaving the traditional sounds of Vera Cruz, Mexico with Japanese American Obon reflecting the Buddhist tradition of connecting with ancestors that have passed. Nobuko Miyamoto, who has written Obon songs and dances that have been adopted by the Southern District Buddhist Obon circuit, served as director of Fandango Obon.
Nancy Sekizawa (aka Atomic Nancy) was a featured singer. The musicians in the center of the circle spontaneously became an orchestra when everyone in the audience with a "harana" (a Mexian instrument similar to a ukulele) was called up to join the group and play.
This year, the Circle was expanded with Egungun, an African Yoruban tradition of mask-making, drumming and dance honoring ancestors. Nigerian Drum Master, Najite, was a featured drummer.
The Mottainai Eco Fest preceded the Obon with booths of exhibits and workshops teaching better environmental practices as communities of color and featured community partners, Sustainable Little Tokyo and the JACCC.
Los Angeles Department of Water and Power provided portable filtered water that many people used to refill bottles, reducing discarded plastic water bottles in the trash.
CHANGES Helps With Utilities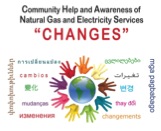 CHANGES is a support program for limited English speakers regarding issues with Southern California Gas Company and Southern California Edison. Trained staff are available to help you apply for programs like the low-income discount program and the one-time natural gas or electricity bill payment assistance program. Staff also assist in resolving issues such as losing CARE discounts due to high energy use, or Gas Aggregation Service problems. For assistance, please e-mail Yasue Clark at This e-mail address is being protected from spambots. You need JavaScript enabled to view it or Hi-Woo Lee at This e-mail address is being protected from spambots. You need JavaScript enabled to view it .
Blue Shield of California Foundation supports Kosumosu
Blue Shield of California Foundation has awarded LTSC a grant to support our capacity to provide shelter and critical services to survivors of domestic violence. These core operating funds offer flexibility to respond to new demands and opportunities, so that we can continue to reach many of the most vulnerable Californians.
Blue Shield of California Foundation is the state's largest private funder of domestic violence services and prevention. The Foundation ensures providers have the resources to adapt to and meet the needs of all survivors. The Foundation's ultimate mission is to end domestic violence in California. The Foundation supports LTSC and nearly every shelter and domestic violence service organization in California
This funding is part of a group of grants designed to empower California's domestic violence services providers, and enable them to continue making a difference in the lives of thousands of victims, survivors, and families. LTSC thanks Blue Shield of California Foundation for supporting our Kosumosu Transitional Housing program.
Senior Trip to LA County Fair
Thanks to Supervisor Gloria Molina for sponsoring this fun trip for Little Tokyo seniors to the L.A. County Fair.
Emergency Kits for Seniors
Councilman Huizar stopped by Little Tokyo Towers and hand delivered emergency response kits to seniors. The nearly 100 seniors were very happy to receive their kits from Councilman Huizar directly. Thank you Councilman!
Yes on Measure P
If we do absolutely nothing, $54 million spent every year to protect L.A. County parks will simply disappear.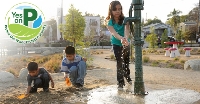 Crazy, right? But here's what's happening: In June of 2015, funding put in place over 20 years ago for L.A. County parks will expire. But we can keep it going by passing Measure P on November 4.
Measure P is simple. It continues the funding that's already in place, and ensures programs to protect clean water, preserve natural areas and give 70 million yearly visitors a great day in the park will keep right on going.
We need your vote on Measure P to get it done. If you support clean water. If you support the preservation of open spaces. If you believe the parks and natural areas we enjoy today should be there for our kids, just like they were for us, then Measure P is critical.
Thank you for standing with us. Tell your friends and remind them of what's at stake! Learn more at ProtectParksAndWater.com.
Win tickets to Lakers vs Clippers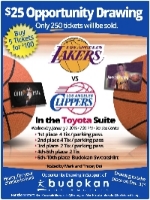 Want to watch the Lakers-Clippers rivalry in style? Enter the Budokan of Los Angeles raffle for a chance to win tickets to the Toyota Suite at Staples Center on Wednesday, January 7, 2015.
Raffle tickets are $25 each or 5 tickets for $100. Only 250 tickets will be sold and the top 10 tickets pulled are winners!
1st prize: 4 tickets and parking pass
2nd prize: 4 tickets and parking pass
3rd prize: 2 tickets and parking pass
4th-5th prize: 2 tickets
6th-10th prize: Budokan sweatshirt
The drawing will take place on December 31, 2014. Contact Kim Kawasaki at This e-mail address is being protected from spambots. You need JavaScript enabled to view it or (213) 473-1619 to purchase raffle tickets.
Community Events
11/3: ISAAC Legacy Awards Banquet honoring Bill Watanabe
Monday, November 3, 5:00 pm
Hillside Community Church
2241 N. Eastern Ave. Los Angeles, CA 90032

Former LTSC Executive Director Bill Watanabe will be honored by ISAAC (Institute for Study of Asian American Christianity) at their 6th annual Legacy Awards banquet. Tickets are $50 each and can be purchased online. If you have questions regarding this event, please e-mail Rev. Young Lee Hertig at This e-mail address is being protected from spambots. You need JavaScript enabled to view it .
11/15: Affordable Heathcare Workshop
Saturday, November 15, 2:00 - 3:30 pm
Gardena Valley Japanese Cultural Institute
1964 W. 162nd St. Gardena, CA 90247
Panelists from Asian Americans Advancing Justice-LA, the National Senior Citizens Law Center, and the Center for Health Care Rights will help clarify your health insurance options through Covered California, Medicare and Medi-Cal. RSVP by calling (213) 473-3035. Part of LTSC's Navigating Transitions in Life workshop series, offered in English with simultaneous interpretation in Japanese.
11/15: "Dancing for Miracles III" Benefit Dance for A3M
Saturday, November 15, 6:30-11:30 pm
Orange County Buddhist Church
909 S. Dale St. Anaheim, CA 92804

Orange Coast Optimist presents "Dancing for Miracles III," a benefit dance for A3M. Come out for a fun evening towards a good cause! Doors open at 6:30 pm and live music will be provided by Kokoro 8:00-11:30 pm. There will also be a late night "ochazuke" bar, photo booth by Alan Miyatake, and opportunity drawings. Registration is $60/person. For more information, contact Carol Tanita at This e-mail address is being protected from spambots. You need JavaScript enabled to view it or visit www.ocodance.org.
11/22: Be The Match Run+Walk Long Beach

Saturday, November 22, 7:00 am
Shoreline Aquatic Park
200 Aquarium Way, Long Beach, CA 90803

7:00 am Event Village opens
8:15 am Tot Trot
8:30 am 5K
8:40 am 1K

Closing program and award ceremony to immediately follow Join A3M in raising critical funds for Be The Match to help patients with blood cancers, like leukemia and lymphoma, take the next step toward a life-saving marrow transplant. Online registration fees are $30 for 5K and 1K Adult, $15 1K Youth (17 and younger), and $10 Tot Trot (children 5 and younger). For more information, contact Ashley Honma at (213) 625-2802 ext. 114 or visit www.a3mHOPE.org.
October Donors – Thank You for Your Support!
Anonymous

Lorraine & Jeffrey Dohzen

June & Gary Masada
Teresa & Robert Matsushima

Shirley Oka

Dean Okamura

Roll Giving & Paramount Community Giving

Sanuki No Sato

Mable & Frank Takenaka
Nora & Norman Yamauchi

Paul Yokoyama

In-kind donations

Lily Harumi Baba

Paul H. Iwahashi
Kathy Khoury

Ting Kerry Situ

In Memory of Nancy Kikuchi

Tadao Gee

Sabrina & Darin Ishimatsu

Leslie Ito & Steve Wong

The Kikuchi Family

Yoko Okada Hayashi

Kay & Mike Okamoto

Joyce Shimazu

Kana Shimizu & Marion Richardson

Lisa Sugino & Jay Rosenthal

Gayle & Craig Wong


In Memory of George K. Sato

Carol Sato

Vehicle donations
Mark Uyehara