Little Tokyo Service Center News - March 2014
Helping People, Building Community
Welcome To Far East Lounge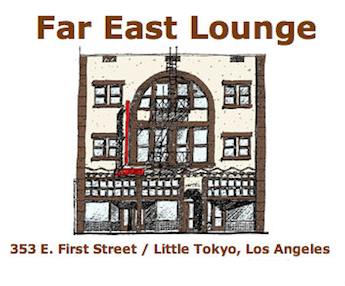 Far East Lounge, a project of the Little Tokyo Service Center, is a new gathering place for seniors and others! Located in the historic Far East Building at 353 East First Street, it's a multi-purpose gathering place for "hanging out," relaxing, and meeting interesting people of all ages.

If hanging out is not your "thing," come to take arts & crafts lessons, learn to speak another language (English, Japanese, Korean, etc.), or keep your mind active by learning computer skills, photography, video and other activities.
In the evenings, the space will be available to community groups (use fees may apply) for karaoke, business meetings, exhibits, rehearsals, etc.. We are planning lots of "special events" as well.

SAVE THE DATE: You are invited to the Grand Opening of Far East Lounge on Saturday, May 3, 2014, 1:00pm to 4:00pm. (Programs and classes are beginning now.)

READ MORE about Far East Lounge!
Adopt-a-Wish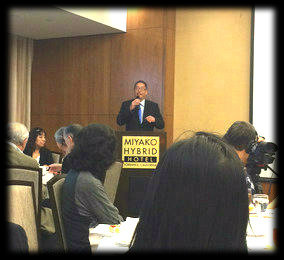 Alan Kosaka, Budokan Chair, giving his acceptance speech on behalf of the project
On Sunday, February 23, 2014, the Japanese American Historical Society of Southern California (JAHSSC) hosted its final Shinnenkai at the Miyako Hybrid Hotel in Torrance. The Budokan of Los Angeles was a recipient of JAHSSC's Adpot-a-wish grant program along with seven other organizations. Budokan of Los Angeles received the largest grant ever awarded in the 17 years the Adopt-a-wish grant program has been in existence.

Little Tokyo Service Center and the Budokan of Los Angeles are truly grateful for this honor and would like to thank the Japanese American Historical Society of Southern California for their generous contribution.
Little Tokyo Birthday Bash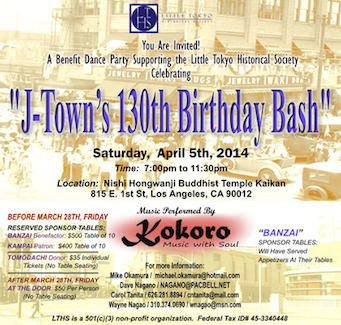 Little Tokyo Historical Society invites you to a Benefit Birthday Bash!

On Saturday, April 5th celebrate Little Tokyo's 130th birthday with a BIG birthday dance party with the music of "KOKORO." During the break, learn an ondo dance. Bring your dance gear, your hapi coats, and sway to the music to celebrate this auspicious occasion. The party is at Nishi Hongwanji Buddhist Temple Kaikan (815 E. 1st St, Los Angeles, CA 90012) from 7pm until 11:30 pm.

The net proceeds of this dance will benefit Little Tokyo Historical Society's year-long activities celebrating J-Town's 130 years of rich history. For more information about sponsor tables and individual tickets contact:

Mike Okamura | This e-mail address is being protected from spambots. You need JavaScript enabled to view it
Dave Nagano | This e-mail address is being protected from spambots. You need JavaScript enabled to view it
Carol Tanita | 626-281-8894 / This e-mail address is being protected from spambots. You need JavaScript enabled to view it
Wayne Nagao | 310-374-0690 / This e-mail address is being protected from spambots. You need JavaScript enabled to view it
Yard Sale For Kosumosu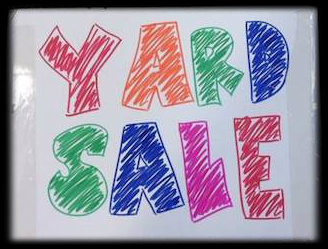 Little Tokyo Service Center will be participating in a gigantic yard sale to benefit Kosumosu, Little Tokyo Service Center will be participating in a gigantic yard sale to benefit Kosumosu, our transitional housing program for survivors of domestic violence.

Saturday, March 8
8:00 am - 2:00 pm
300 S. Central Ave.
Los Angeles, CA 90013

Corner of 3rd and Central, Parking Lot of Centenary United Methodist Church

Second Hand Goods, Collectables and New Boutique Items. Sports Memorabilia, Coins, 78 Albums from the 40's & 50's, Traditional Japanese clothing, Hawaiian style clothing, Hand Crafts, countless boutique, collectible, second hand and new items for sale.

Centenary United Methodist Church allows neighbors within the Little Tokyo area/Artist District who do not have "private" space to hold "yard sales" to use Centenary's parking lot and fellowship hall.
Rainbow Loom for the Budokan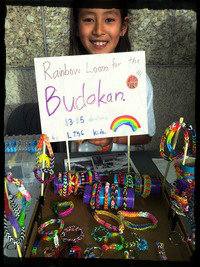 Maiya Kuida-Osumi sold Rainbow Loom bracelets and key chains at the Day of Remembrance in Little Tokyo on February 15, 2014. All proceeds are going to the Budokan of Los Angeles.

Thank you Maiya!

February Donors – Thank You for Your Support!
Anonymous
Consulate General of Japan
Paul J. Fukushima
Hoops for Friends
Edna Ikeda Horiuchi
Toshi Ito
Mark Kawauchi
Mee Leung
June & Gary Masada
Kimie Matayoshi
Dean Okamura
Stephen Suzuki
Mable & Frank Takenaka
Dean Toji

Kansha Fund

Janice & Richard Edesa
Maya Hayashi
David Chris Hoshimiya
Kari Marie & Daniel Kelley
Kazuko & Hiroki Kodaka
Steven Kramer

Komako & Bradley Leland
Sandra Matsuura
Linda & John McDonnell
Joyce Uyeno & Paul Hao Nguyen-Huu


In Memory of Beverly Shue

Sharon & Richard Denner
Kathy Jong

In Honor of Mike Murase

J. & Mariko Kobata

In-Kind Donation

Deana Chuang
Wataru Ebihara
Samantha Stone
Alan Tomiyama
Vehicle Donation
Delcey & Steve Kawasaki
Wish List - Elliptical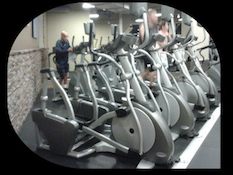 Do you have an elliptical taking up space but not getting a workout? Little Tokyo Service Center is seeking an elliptical machine for the exercise room at Palm Village Senior Apartments, our affordable housing community in Sun Valley.

Little Tokyo Service Center will pick it up!

If you would like more information please call Julie at 213-473-3027.
Increase Your Impact with Corporate Matching Gifts
Your company may be one of thousands that "match" employee charitable contributions with corporate dollars. Ask your HR department about your company's matching gift policy. Visit our website by clicking here or contact (213) 473-3027 for more information.
Donate Your Old Car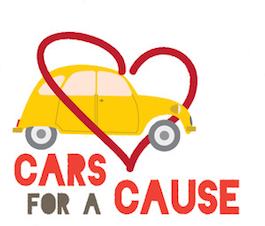 Harold's Car Donation Service has brokered LTSC's vehicle donations for almost 15 years. Thanks to Harold, Cars for a Cause runs smoothly and raises significant funds for LTSC' programs and services. The process is easy and free:
1. Call 213-473-3027 or e-mail This e-mail address is being protected from spambots. You need JavaScript enabled to view it
2. A tow truck is sent at your convenience (all DMV paperwork is handled at time of pickup)
3. Your car is sold and any tax forms are sent to you by mail
If you have any questions or if you'd like to donate a vehicle, call 213-473-3027 or e-mail This e-mail address is being protected from spambots. You need JavaScript enabled to view it today!
Ways to Help LTSC
In making a donation to LTSC, you can:

• Make a donation in memory of a loved one
• Make a donation in honor of someone's birthday or graduation
• Make a stock donation
• Host a fundraiser to benefit LTSC
Donate Online, over the phone or via traditional mail.
Call (213) 473-3027